How To Hide FaceBook Wall Posts From Certain People While Still Allowing Them To Write On Your Wall
Let's say that you added your family to your FaceBook page, but your friends (or you ya naughty kitteh

) tend to post things on your wall that you just don't want them to see. Or maybe just some other people, anyone really ... and you still want them to be able to write on your wall. If you just block them from seeing your wall they won't be able to write on it either when they want to. One thing you can do is set your default posting preferences to not let them see any posts you make, and set it as your default posting preference so it stays that way. Like this:

Go to your friends list by clicking "
Edit Friends
" ...

Make sure you have "All friends" showing, then click on "Create a List" (unless you already have a list made with just the people you want already on it, then skip this and the next step).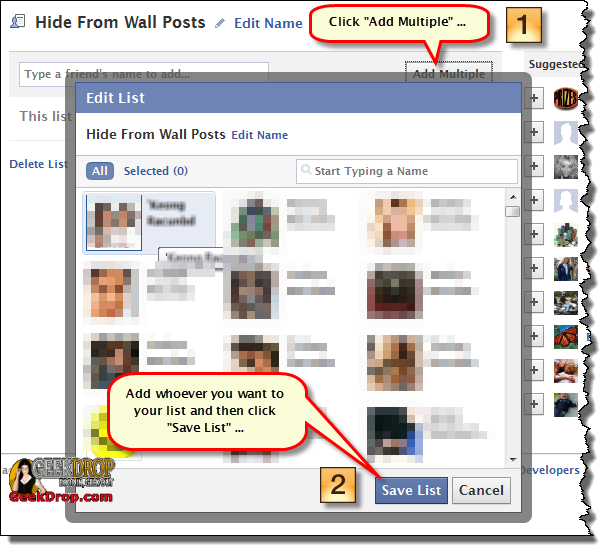 Select all the friends / family that you want on the new list and save it ...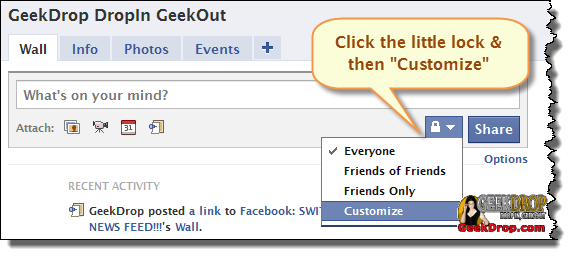 Now where you type in your statuses, click the lock and choose "Customize" ... (Also, see the "edit" at the bottom of this post)

Type in the name of your new list in the "Hide this from" area; as you start typing it, it'll auto-show in the drop-down box, click the list name so it is added to the line, check this box that says "Make this my default setting" (this is the crucial part. It'll save this setup permanently so you won't need to think about doing this each time you add a new status, it'll automatically hide your statuses from the people you've added to your "hide from wall posts" list), then click "Save settings".
To use this new setup you'll need to go back and change your original settings that hide those people from seeing your wall, that way they'll be able to type stuff on it when they want.
This will hide all of your statuses and wall posts on your wall from the people on your "hide" list, but the people on it will still see any wall posts (and follow-up comments) that your friends write on your wall. One possible way around that is to ask your friends (or maybe just the ones that you don't want the people on your "hide" list to see the wall posts of) to add them to their "block" list.
Another way around this is to edit your "Privacy Settings", and do the same thing as shown above, in the option shown in the box below ...
Now the people on your "hide" list shouldn't be able to see anything your friends post on yoru wall either.
Edit: Now that I look at it, it also appears you can use this method in your privacy settings area as well (instead of clicking on the "lock" where you enter your own statuses):
Let us know how this worked out for ya. And if it helped, tell all of your friends about us!

"Wisdom cannot be given unless someone asks for it and shows a readiness to receive it."
---
Read More ...
---