How To Post Privately To Someone Else's FaceBook Wall
Here's the trick to posting a comment on someone's facebook wall, so that no one else, either your friends OR theirs will see it (unless you choose that they do too). You can use this trick to post pictures, videos, and all of the other things you normally can do, but it'll only be visible to them and you.
Let's begin ... go to either your profile page or your home page, and where you normally type in your comment, picture, whatever, click the little "Lock" icon sitting next to the "Share" button. This will bring up a small menu, click the "Customize" menu item next, as shown in (Fig-1).
Fig-1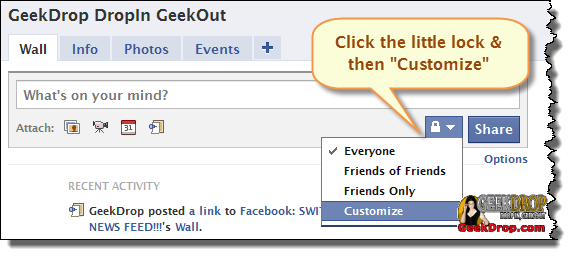 On the next dialog, choose "Specific People ..." from the drop-down menu, and then start typing the name of the person you want this private wall post to go to. You'll notice that it'll help you out as you type. If you want to share this private message with anyone other than the one person, you can also type their name(s) here as well.

Be sure to leave the checkbox at the bottom UN-checked. Leaving this unchecked makes sure that this privacy setting doesn't stay that way. In other words, it only keeps these settings for this one post, and then goes right back to normal.

Finally, click the "Save Setting" button. (Fig-2)
Fig-2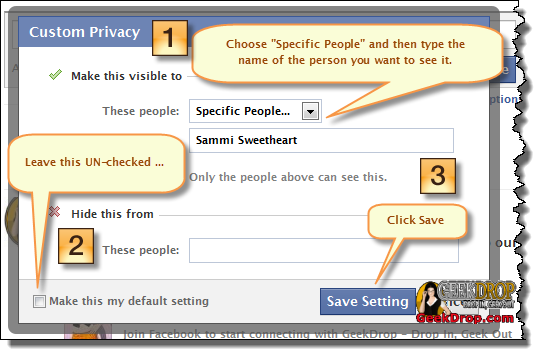 Now, back on your comment box, type the message you want posted. To make sure it also is posted to the other persons page (or people, if you chose more than one above) you need to type an "@" sign followed by the person's name somewhere in the message. It doesn't necessarily need to be in the front, but must be somewhere in the post. If you included more than one person above, then an @ sign and their name(s) must also be somewhere in the message.

This is also a way to have private conversations on walls for just a small group of people if you wanted to.

When done typing your message, click the "Share" button. (Fig-3)
Fig-3

Finite!

Now you'll see your message only on your page, and the persons (or people's) walls. No one else on their friends list or yours can see it. Completely invisible to them. (Fig-4)
Fig-4

But why just take my word for it? Check it for yourself

To the top right of your page, Click the "Account" item, then "Privacy Settings" ... (Fig-5)
Fig-5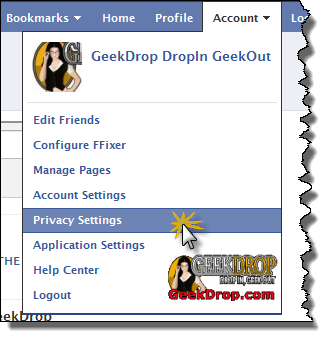 On the following page, click the "View Settings" link near the top ... (Fig-6)
Fig-6

On the following page again, click the "Preview My Profile" button near the top ... (Fig-7)
Fig-7

On the page after that, start typing a name of anyone else on your friends list other than the person (or people) you made the private wall post to ... and hit the "Enter" button ... (Fig-8)
Fig-8

You'll be viewing your profile as the person on your friends list who's name you typed in .. so as long as it's not one of the people, or person you sent the private wall message to, it will not be visible on your wall to them.

(Fig-9)
Fig-9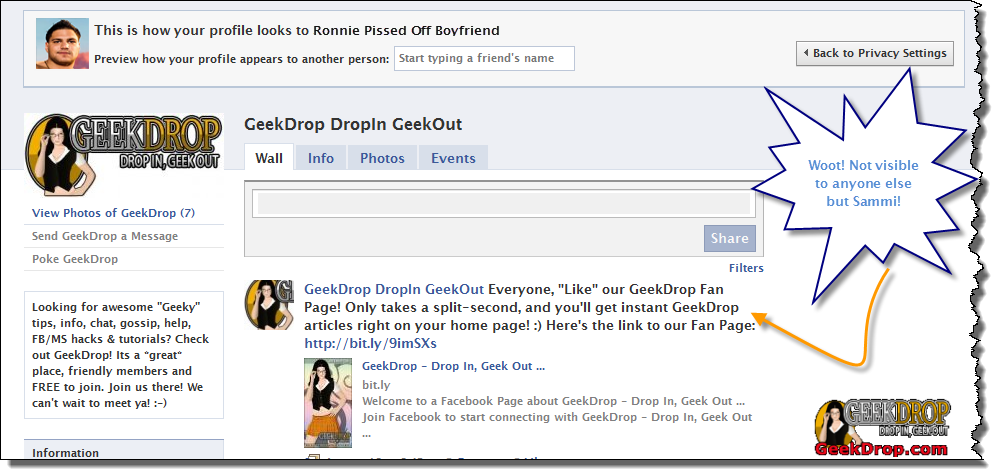 Somehow I have this feeling I've just helped millions of relationship cheaters all over the world ...
Be sure to join us here, and our FaceBook Fan Page for more awesome tips like this: Here
---
Read More ...
---