First off, the usual rant ...
For some reason unbeknownst to me, and about 42 billion others who use
SnagIt
, Techsmith (the company who makes it) simply
refuses
to add the very common, almost standard option in so many other programs across the interwebz, to "start
.
SnagIt minimized"; meaning you choose to start it with Windows, and instead of keeping it's window on your screen, forcing you to manually click it to minimize it to the tray to get it out of your face, it'll hide itself to the tray for later. Common sense, standard behavior, right?
Well, here it is, almost 2022, and they haven't changed a single thing.
SO, leave it up to the rest of the world to solve their problems for them ... a.k.a. ME.
Seriously Techsmith, pull it outta your seat and just add it already ... and be done with it. FFS.
/END RANT
Without further ado, here's how it's done
First of all, open the

.

SnagIt Capture window
Click "File" - > "Capture Preferences" (such an intuitive name, eh? considering choosing to start the program on Windows boot up isn't really a "capture preference"; it's a "program preference". But ... I said I was done ranting ... *bites tongue*)
UNCHECK the option "Run

.

SnagIt when Windows starts" (we'll re-add it another way later)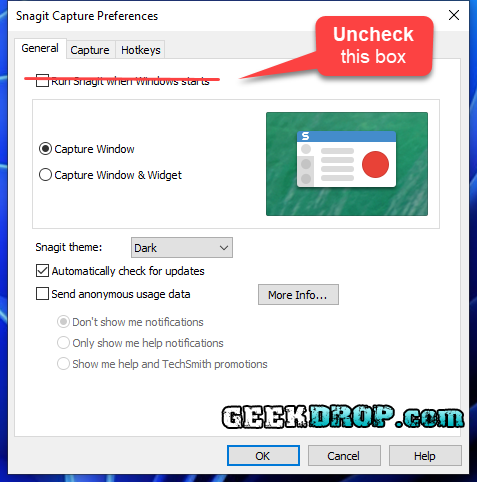 Now that that's done, you'll need to add it to your startup using a *very* hard to find, hidden command-line argument. Namely "/i". Yes ... and "I". Not an "M" for "Minimize" or anything intuitive (apparently making things intuitive isn't part of Techsmith's Modus Operandi.
At this point I'll just assume everyone already knows how to create a new Shortcut, so I won't really go into that detail. (hint: right-click your desktop and choose New -> Shortcut), so do so, point it to your SnagitCapture.exe, (or on older versions,

.

SnagIt.exe) wherever you've installed it, and at the end of it, add: /i. That is a slash followed by a lower-case letter i.
Save it, move the new Shortcut to your Startup folder (Your User folder: Paste this into Windows Explorer -> %APPDATA%\Microsoft\Windows\Start Menu\Programs\Startup OR in the All Users folder: C:\ProgramData\Microsoft\Windows\Start Menu\Programs\StartUp).
When done it should look similar to this, depending where you have it installed: "C:\Program Files\SnagItCapture.exe" /i
At this point you're done and can stop here, but if you're a bit more advanced you could just add that command-line right to your registry, in it's own start-up area, which is what I do.
For example, adding it to HKEY\CU\Run.
To do that, just open a new text file
Paste the following into it (tweaking the file path to match your own):
Windows Registry Editor Version 5.00
[HKEY_CURRENT_USER\SOFTWARE\Microsoft\Windows\CurrentVersion\Run] ".SnagIt"="\"G:\\Program Files\\Graphics\\Techsmith\\.SnagIt\\SnagitCapture.exe\" /i"
Save the file as ".SnagIt.reg", double-click it, click OK, and you're all done.
Additional notes:
I've seen a ton of posts saying to just select the option to start the program minimized right from within the new Shortcut options; you can give it a try, hopefully it'll work for you as well; it never worked for me.
There is also a way to use your Windows Task Scheduler to start it "hidden" when Windows starts; I've had varying success using that method.
The 'key' really seems to be to just not allow

.

SnagIt from starting with Windows via it's own check-box in it's Preferences, and starting it yourself with the /i flag. There are several ways that can be done; if you're computer savvy you'll already know the ways and can do it however you please now that you know the magic sauce.
Have any other tricks up your collective sleeves for this bug? *cough* I mean "feature", apparently? Let us know in the comments!
---
Read More ...
---