Lately there's been a lot of these fun "Status Tag Lists" going around, and I'll admit, they're fun!! Here are the one's that I've seen SO far, feel free to add them to your Facebook statuses too. If you do, please be kind enough to click the Like button on this page

And if you know of more or see more, or think of your own, please add them in a comment so we can have a huge list of great ones!
To use these, just copy / paste them to your Facebook status, and after each name, do an "@<the friend's name>", and it'll tag each person in blue with a link to their profile, and will also show the post on that friend's wall. So for example, using the Seven Dwarves one you would choose the first 7 friends in your Facebook friends list that you see by going to your main profile page, on the left, and it would look like: Sneezy: @joe schmoe, Sleepy: @Jane doe, right on down the list. Like the screenshot below: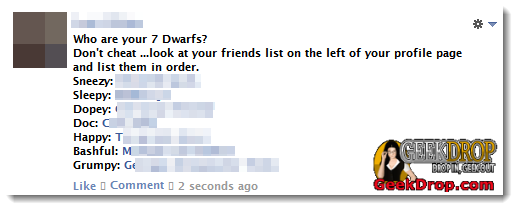 ---
Who are your 7 Dwarfs?
Don't cheat ... look at your friends list on the left of your profile page and list them in order.
Sneezy:
Sleepy:
Dopey:
Doc:
Happy:
Bashful:
Grumpy:
---
You're at a strip club ... use the first six people on your friends list in your profile! Do NOT CHEAT!
The Manager:
The pole dancer:
Person who tries to get you drunk:
Hottest person in the room:
Drunk person in the corner:
Person that gets arrested:
---
Look at your profile and use the first 9 friends on the left ... Don't Cheat!
I threw a party ... Here's what happened:
Crashed the party:
Got too drunk:
Started a fight:
Jumped in the pool naked:
Left early:
Passed out:
French kissed my dog:
Wouldn't leave:
Peed in my sink:
---
DRUNKEN BAR FIGHT: Go to your profile, use the first eight people on your friends list in order!
Starts the fight:
Hits someone 1st with a bar stool:
Falls off bar stool:
Hit someone with empty bottle:
Gets hit for no reason:
Throws somebody out the window:
Is thrown out the window:
The sissy who calls the cops:
---
ROAD TRIP!! Rules: Go to your profile and look at your first 7 friends on the left side.
The Driver:
Always has to go to the bathroom:
First to fall asleep:
Cant stop talking:
Moves around a lot:
The back seat driver:
Rides shotgun:
---
You Throw A Party. Go To Your Profile, Look At Your First 10 Friends On The Side:
Crashes the party:
Got too drunk:
Gets locked up:
Starts a fight:
Jumps in the pool:
Goes early:
Passes out:
Vomits:
Strips:
Doesn't wanna leave:
---
Say you're Harry Potter!
Go to facebook and look at your first 7 friends on the right side.
My loveable sidekicks:
My Slytherin enemy:
The Dark Lord:
The follower of the Dark Lord:
My white-bearded mentor:
My owl:
My rockin' potions master:
---
Read More ...
---