Here's a custom GeekDrop trick discovered by your's truly. This is just one way to tell.
First things first, you'll need to have somehow found at least one Fan Page your target belonged to before they went "missing". Most of the time when visiting their page, even if you weren't friends with them, you'll be able to see a list of pages they belong to, since most people don't hide this, but if your particular target has, we have codes in our Premie forum to still see them.
So on with the shewww ...
So, you've stalked *cough* visited

your target's facebook profile and you see this screen now:

And you're wondering if they actually
deleted
their account entirely, or just decided to maybe take a breather (
deactivated it
) instead. (If they just deleted
you
from their friends list you'd still see their profile when visiting their profile btw, unless they blocked you, which would just redirect you back to your own home page).
The way to tell if they just deactivated it, is to visit one of the pages they were a fan of and if you can, (sometimes you can't) click on the list of members. If they only deactivated their profile, you'll still see them in the list, but this time they'll have the 'anonymous' image as their profile picture, and their name will be an unclickable black text, like the following screenshot shows: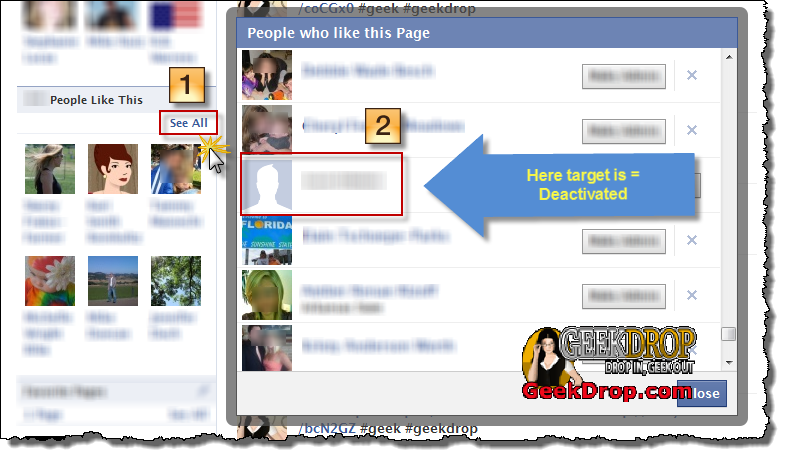 Although I haven't tested yet, there may be (probably are) other lists like this that you can click on and use the same way, other than a fan page, such as an even invitation list that you know they were invited to before the target disappeared on ya, etc.
And if you want to make the extra effort, you may want to try starting your own fan page so that you're the admin of it, and try to get them to join it. Just make some stupid/humorous phrase or something, and work on getting them to join it. With any luck/skill, you'll get them on it and you'll for sure be able to access the list of members.
Remember, along with tips like these we also have even better facebook stuff in our private area. Just a Premie join away.

---
Read More ...
---