How To Tell If Your Facebook Account Has Been Hacked
Here's one very good method to stay on top of your FaceBook account, and get immediately alerted via email and SMS text message (if you choose to) if someone accesses your account. Setting this up is quick & easy, just follow the tutorial below.
(Fig-1)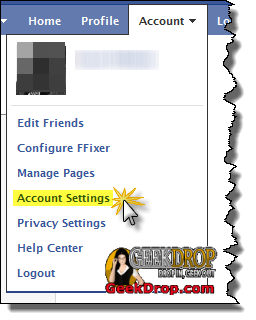 When logged into your Facebook account, click on "
Account settings
" (Fig-1)
(Fig-2)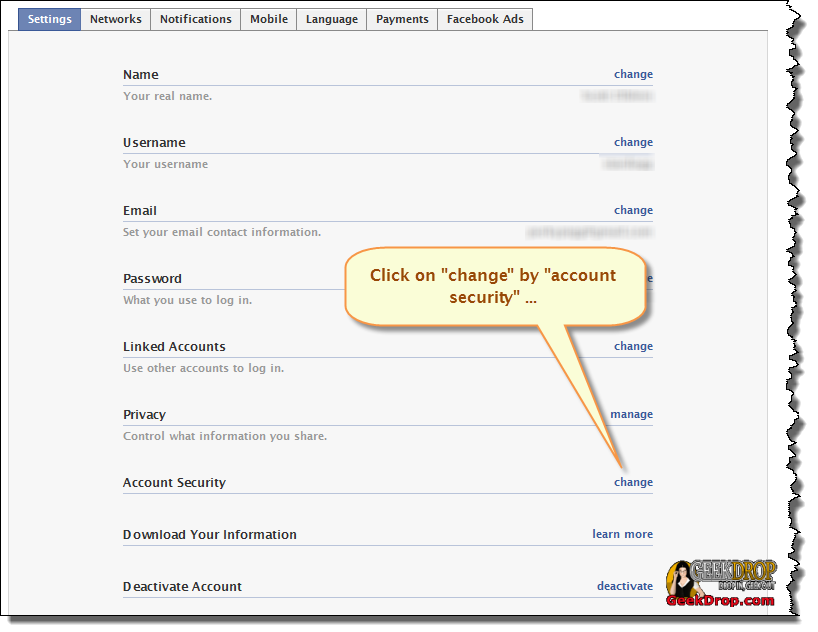 Next, look down by "account security" and click the "change" link. (Fig-2)
(Fig-3)



Fig-3 is where the bulk of your 'work' is.
You can choose to turn on or off notifications that you'll receive instantly after a new computer is detected and added to your Facebook account. If you turn it on you'll automatically get the notifications to your stored Facebook email address. If you choose "Off", you'll only see the information when you visit this page at any time in the future to view the activity.

In addition, you can have a notice sent to your cell phone via a text message as well. Personally, I like to have them both turned on.

Beneath that you'll see a list of all computers that have been detected, given a name, and added to your account.

Followed by the activity of the very most recent computer, which should be the one you're currently using.

If you use multiple computers, of multiple people share the same Facebook account, and they happen to be connected at the same time as you, you'll see their activity below your activity.
(Fig-4)
Once you have setup your Facebook account to keep track of computers that connect to your account, the next time you (or anyone else) logs into the account, they'll be greeted by the above screen (Fig4), asking you (or them) to give a Name to the computer you're connecting with. Once you type in a computer name (it can be anything you want), click the continue button. If you checked the box below where you enter your name, you'll never be asked to re-enter a name for this computer, or be greeted by this screen when you login. You'll log in as usual, and go right to your usual Facebook account page. There are a couple of exceptions, as noted at the bottom of this article.
(Fig-5)
Fig-5 shows an example of the email notice you'll be sent anytime a new computer has been added to your Facebook account. Notice how it gives you detailed information on the computer that's been added, such as the Name it was stored as, it's general location, it's IP address (blurred out in the example) and the time it was added.
If this is not you, or anyone you know, now is the time to click the link highlighted in light-purple above.
(Fig-6)
Finally, if you also enabled SMS Text notices, Fig-6 shows an example of the text message you'll receive at the same time as the email notification. This is very handy in case you happen to be out and about, you'll be immediately able to protect your Facebook account.
And that's all there is to it!
Here are some important tips:
You can click the Account link and follow steps 1 and 2 at any time after this to view all recent activity, and all computers added to your Facebook account. You can also manually remove any computers in the list by clicking the "remove" link next to the computer name.
If at any time you see a computer you don't recognize in the list, or any activity in the list you don't think is you, or get a notification that you know isn't you or anyone authorized to you your account, immediately login to your Facebook account, change your password, and click the "remove" link(s) next to the suspect computers in the list. You can also click the long link in your email notice.
It's no big deal to remove any computer's in the list. If you accidentally (or purposely) remove your own, you'll just be asked to enter it again the next time you login. You'll also be asked each time if you chose to not check the box below where you type in your computer name.
FB saves all of this computer information in it's cookie. If you clear your cookies automatically on browser exit, or ever clear the cookie manually, or via some cookie cleaner, you'll be asked to enter it again the next time you login.
Before this new feature came along, Facebook helped protect your account by only allowing one computer, even if from the same IP address, in your account at a time. So if you for example had a desktop computer, and a laptop computer behind a router, using the same IP address, you'd still get logged out on one, when you logged in on the other. With this feature enabled, you can now be connected with both computers and neither will be logged out. You'll see the activity in the list above instead. Personally I prefer it this way. If you do not have this feature enable however, I believe it still behaves the 'old' way.
The location it shows you is a general "guess" that Facebook does automatically based on it's own lookup of your IP address. There's no way to manually change this.
When looking at the list, use all of the available information to determine if you've been hacked. The browser type, the OS (Operating System), the time and date, and location.
Unfortunately Facebook doesn't show you the actual IP address(s). Maybe they will in the future, maybe not, but rest assured they've got them stored away. If you notice you've been hacked, be sure to report it to them so they can help you bust the perp.
If you log in, and get the screen asking you to enter in your computer's name, and then just logout without entering anything, no notices or text message will be sent.
Of course this isn't a 100% guarantee your account won't be hackable. Rogue Facebook applications and Facebook games can always still reek havoc if they want to, and there are some other ways, but this is a very nice step in keeping yourself a bit safer. So have at it!
Have any more tips on keeping your Facebook account from being hacked, whether beginner tips or advanced tips? Post away!
---
Read More ...
---