A very quick "How To", to show you how to immediately do a library update and / or optimize your Plex Media Server (PMS) database (library), through Plex.
Made some changes to your Plex folders outside of the Plex interface, such as recently added files, movies, music, or whatever, and need to have PMS see them NOW instead of waiting for it's scheduled update check?

Want to make sure your PMS library is nice and cleaned up, running fast, not using up unnecessary bloat on your hard drive, etc.?
Here's how to do it.
NOTE: This is a tip for beginners to PMS, who may not quite know their way around the software yet.
Open up your Plex Media Server Web Interface. Assuming you are still using the defaults, it should be at: http://localhost:32400/web/index.html

Make sure you're on the Dashboard page.

Look toward the top left of the page, (as of the writing of this article at least; in the future who knows, they may update the software and move it. If this happens, please comment and let us know so we can update this tutorial), there is a Gear Icon.

Click it, you'll see menu items that say "Update Libraries" and "Optimize", amongst other choices.

Simply click on whichever one you want to do. Be sure to give each action some time to process and finish before doing the next.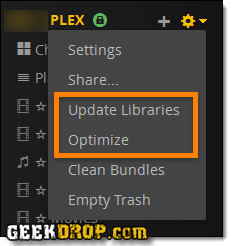 Tips:
If you're planning to do both, a Library Update and an Optimize, do the Update first.

Manually updating your library isn't necessary as often as you probably think; PMS is pretty good about auto-detecting new additions very quickly. You can also tweak this auto-detection in the settings.

No need to over-optimize. Once you've optimized, it'll generally stay pretty optimized, unless you add a ton of stuff at one time. I generally only optimize maybe once a month or so.

There are other ways to optimize the PMS database, It's an SQLite3 database, and most SQLite utilities have built-in repair / optimize functions, but that's more for advanced, power-users, and not necessary in most cases.
Any other tips to offer? Post 'em if ya got 'em!
---
Read More ...
---