Before reading on, be sure to read our short tutorial on What Tor is. Clicky

So you've decided that you want to use Tor with Polipo to login and chat anonymously on AOL Instant Messenger (AIM). In this short, beginner's tutorial we'll show you how to do so.
First things first, you'll need:
And you'll need to download (and install) Tor. Check out the screenshot below, and then grab the "Vidalia Bundle" as shown below, from this link. Clicky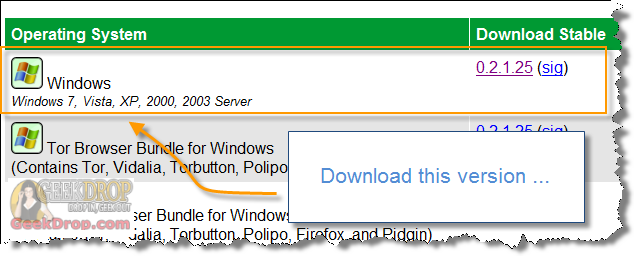 Just make sure to check all of the boxes in the installation, and let it install. (You probably won't need to choose the option to let it start with Windows, but that's your choice).
Once you've got everything installed, run the "Vidalia" program, by default the Tor Bundle uses Polipo, so it'll automatically start Polipo for you once it's connected.
You'll see the icon in your system tray first turn Yellow as it's connecting, and finally Green once it's actually connected to the Tor network, as shown below:

Once it connects, the next thing you'll need to do is start AIM (if it's not already running), and goto your AIM Settings by either pressing F7 or clicking the "Menu" link at the top of the window, and selecting Settings. Once on the Settings screen, click on "Connection, and follow the screenshot below as to what to enter and select:
Polipo is set by default to use port 8118. If you've changed it or it's different, you'll need to enter that Port here instead of 8118.
Once you click the "Apply" and "Save" Buttons, just connect to AIM as usual, and you're now anonymous in your chatting as you can see by the green "Connected" icon in the screenshot!
Some tips:
1.
Changing your "Identity" on the little green Tor icon in your system tray, fetches you a new IP address each time you click it, it may or may not be a faster or better connection.
2. To disconnect from the Tor network, just right click the Tor icon in the system tray, and choose "Stop Tor" or "Exit".
3. Tor has plenty of configuration options that you can play with and tweak. We have shown you the basics on simply how to get up and running on Tor with AIM. Feel free to play around with the settings!
4. You may want to try using Tor with AIM and Privoxy (or other ways) as well! Be sure to either click the links below, or search/surf GeekDrop for our tutorials for beginners on how to do so!
5. To go back to using AIM without Tor, just uncheck that box in the Connections tab and Apply/Save. You'll be back to using your regular connection again. Next time you want to chat anonymously again, just re-check the box after starting up Vidalia, and re-connect to AIM.
And that's it!, Happy anonymous chatting!
---
Read More ...
---