So, even though I really love the way my HTC Thunderbolt looks all on it's own, with no case, no protective film over the glass, and so on, since I take it with me when I'm out running, sprinting ... and drinking, for peace of mind's sake I thought I grab a case for it. The one I picked out was this one:
Black Skull Ace of Spades Design, Hard Rubberized Snap-On Cover Case. There are many similar case designs created by the same company that you'll come across when searching cases on Amazon
, and you'll be able to spot them easily because they're all exactly the same, only a different paint job / design on them, so in that sense, this review stands for all of those as well as my Skull Ace of Spades one.
Review:
First off, in my particular purchase, the seller itself was pretty good (Bemz), I'll get to that later, but the case is pretty much a piece of junk. It's not really that "rubberized" feeling. It's more of a "felt-like" feel, and just slightly at that. It looks like the case is probably made of a silver-ish/clear plastic that is spray painted the black stuff on top of it, as there are black paint chips that flake off frequently, and have already flaked off before I even received it. It's a 2-piece case (front and back). Once you snap the 2 sides together over your phone there are silver, chipped looking areas all around the sides where they meet (and there shouldn't be). I also had to take a knife and scrape around the insides of any holes in the case (such as the camera and flash holes for example), because apparently the mold that created the cases didn't trim them properly. I had my case on for about 1 week (one) before I noticed that the top wasn't staying together anymore. Upon further inspection the 2 tiny notches that snap the top together had somehow broken off without even the slightest bit of rough handling. Strange. So I emailed the seller describing this, and they promptly sent me a second one totally free of all charges. Hats off to the seller for that, maybe they've enough gotten complaints about these cases that they don't even bother asking any further questions or anything, they just know to send a new one,

.
Anyway, I've had the second case installed for only a couple of days now so it's too soon yet to tell how long this one will hold up. One thing I'll add is that the way the case was designed, there's a thin plastic strip that goes UNDER the speaker (the one on top where you put your ear when talking on the phone) that is NOT shown in the sale image for this item as seen on Amazon
and probably other sites that sell these as well, since they seem to be pervasive (Fig-1). I took a pic of the real case as I got it; you can see the strip I'm talking about in it (Fig-2):
The problem with this plastic strip is that it completely interferes with dragging the top statusbar on the phone down. You can't really just blindly swipe your finger down starting at the top like you'd normally do, and have it come right down, you have to very carefully push the tip of your finger into the crack where it meets the glass and then drag. Often times this ends up happening many times before you actually get it, and half the time if you have any app icons or widgets at the top you'll press those instead. What I did was take a pair of wire snippers and clip this bottom piece of plastic off (Fig-3), making look more like the one in the sales picture so that it wasn't in the way any longer, then took a file and smoothed and rounded it out a bit. It's not as pretty as if it were molded that way from the factory, but it doesn't affect the way it's held into the case any less, and I'm able to slide the statusbar down as per usual again (Fig-4).
(Fig-3)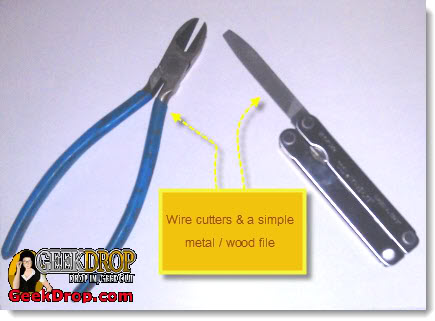 (Fig-4)

(Finished product, after snipping the plastic strip and filing)
When all is said and done though, it's still just a cheapy, crappy case and I think it actually takes a sharp looking stock ~$550 Thunderbolt and turns it into a junky looking phone, but hey, at least it gives you that little piece of mind that your phone is a bit more protected. I suppose an excellent tipoff that the case is cheaply made is what's printed right on the picture inserted into the clear plastic packaging, which also serves as it's front label. Notice anything peculiar? (Fig-5)
(
Fig-5
)
---
Read More ...
---