Pedophile Group on Facebook: "Becoming a Father or Mother was the Greatest Gift of My Life"
There's a slew of Facebook status posts trending right now that say there is a Facebook group named "Becoming a father or mother was the greatest gift of my life" and not to join it because it is actually being administered by a group of pedophiles who want to be able to access your photo albums, with photos of children in them. the rumor even goes on often times to say that it was even reported on Fox News.
Here's the actual image being shared across Facebook statuses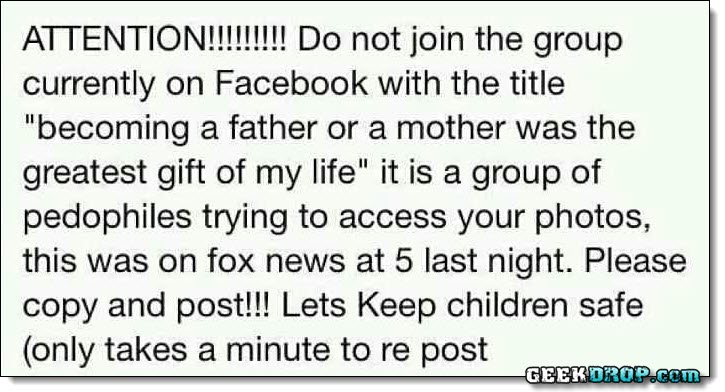 ATTENTION!!!!!!!! Do not join the group currently on Facebook with the title "becoming a father or a mother was the greatest gift of my life" it is a group of pedophiles trying to access your photos, this was on fox news at 5 last night. Please copy and post!!! Lets Keep children safe (only takes a minute to re post)
This is a Hoax, and for a number of reasons:
The Facebook group simply does not exists*
Even if you do join any Facebook group or fan page, the owner(s) of the page / group still cannot see your photo albums any more than anyone else who is not on your Facebook friends list. Page / Group administrators don't get to bypass your privacy settings just by having people join their page or group. We are personally able to confirm this because we (GeekDrop) have our own popular Facebook Fan Page (here) and we are NOT able to view the photo albums of any of our 6000+ members of our page.
Fox News as addressed this directly saying that they've never reported this group in any of their news reports.
*The group as described in the hoax does not exist: however, there is always that bad element on the internet of idiots that try to capitalize on trends and this is no exception. Jokesters have created similarly named groups directly in response to this hoax, but none are pedophile groups. If anything, they're trying to make some money off of the traffic and attention it's getting via ads, or potentially some Malware
, so we suggest it's best to just avoid them altogether anyway.
Fox News HAS however had a report about a Facebook group of pedophiles for the N.A.M.B.L.A Organization. For the unaware (which included us up until now) NAMBLA stands for "North American Man Boy Lover Association" ... gross

. The article goes into pretty great depth about it here.
Even this however was debunked by the real owner of NAMBLA:
On Tuesday, Sept. 29, following the publication of this article, NAMBLA spokesman Arnold Schoen replied to a request for comment that was emailed to him six days earlier. Schoen wrote: "If you really investigated, you would learn that actually we have never set up any pages on Facebook. And we certainly haven't ever used facebook to connect with our members, to find or exchange photos, to "hone predatory behavior:, or to "identify, target and reel in child victims. This is a wild fantasy boogeyman FoxNews is holding up for their fans."
As always, keep following GeekDrop for the latest hoaxes, Trends, etc. etc. etc.
---
Read More ...
---