Have you been invited to join a group / party in SWTOR (Star Wars: The Old Republic) and been unable to join because you get the message:
Group Invite Attempt
... is trying to invite you to their group, but you cannot join because you have conflicting group phases with other members of this group. Reset your local phases
Most likely this is because you've already been inside of a flashpoint / instance before you're attempting to join a group with people who have also been in the same flashpoint separately.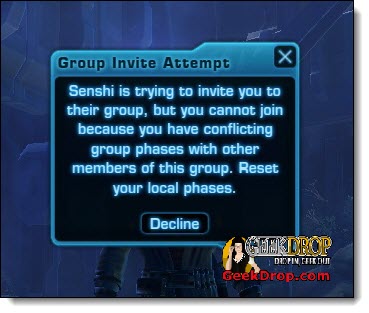 The typical Group Invite error message dialog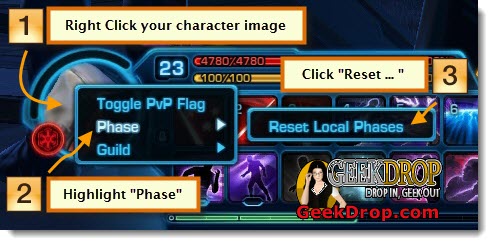 How to Fix the problem

Walah! And all was well with the world again!
The fix is easy, but not intuitive or apparent, seeing as the few times I've come across this problem the people also involved were left scratching their heads before they just gave up and everyone went along their own way apologizing.
Here's The Solution:
When you get the invite error message, just click the Decline button

Right click on your character's portrait

Highlight "Phase"

On the flyout menu click on "Reset Local Phases"

Have the person re-send the invite

Accept the invite

Kill sh*t
Note: this won't cause you to lose anything, it just clears the fact that your phases were out of sync.
---
Read More ...
---