If you are getting a java web start splash: recv failed error message box when trying to run any java scripts / programs, the issue is related to your Comodo Firewall not allowing the javaws.exe program to run.
Look familiar? An example error dialog
The solution is to simply add javaws.exe to your list of allowed programs in Comodo Firewall. Now, since Java has a way of completely scattering itself all over your computer, usually without your awareness, it could be in many places, depending on which version of Windows you're running (32-Bit? 64-Bit?), and can even have the same files in multiple places, the easiest way to make sure you're adding the correct javaws.exe is to do the following:
In Comodo Firewall, click on "Define a New Trusted Application"

With that window on screen, now RUN the Java program or script that keeps giving you the java web start splash: recv failed error ...

With the error message on screen (or with the Java Loading / Splash Screen) still on screen, quickly click on Comodo's Select Button > Running Processes ...

In the Running Processes list that comes up, quickly look for the javaws.exe program and select it

Click Select, then Apply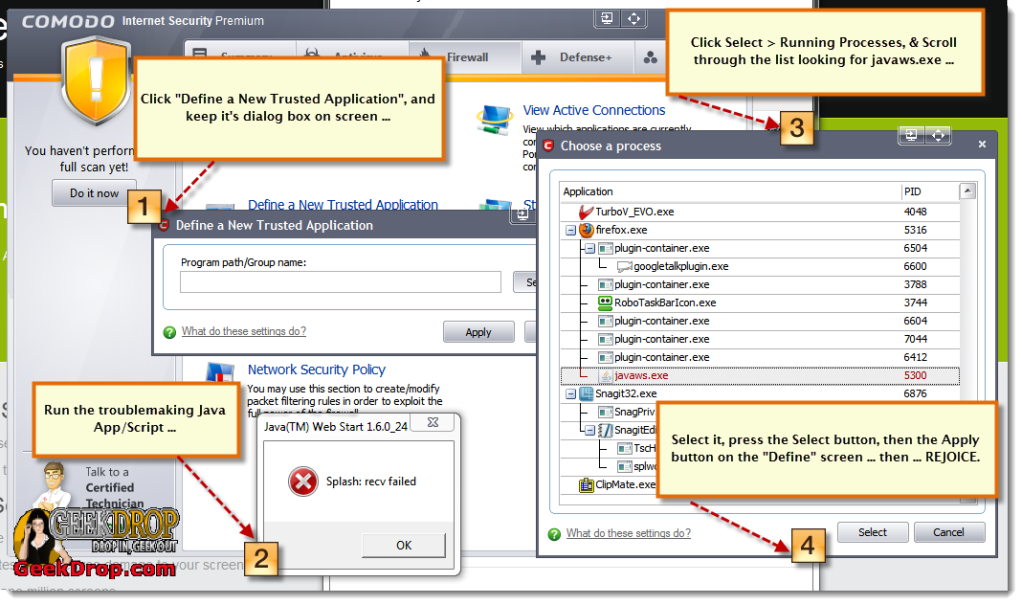 A visual guide of the steps if you prefer
If you did it correctly, you're all set and should now be able to run your java programs and scripts without issue. I say "if you did it correctly" because when I did it, I found I had to do it a couple of times before it "took". There's a certain timing required to get it right, and if you try to do it without either the Java Splash Screen or the error dialog up, the javaws.exe will close entirely, not even showing up in the Comodo Processes list, so you'll just have to repeat the process until you get it. Also, sometimes it'll show multiple javaws.exe's in the process list, so you just need to keep trying until it works. Nothing bad will happen if you don't get it "right", so just keep trying.
Alternately, if you're 100% sure where your javaws.exe that your system uses is, you could always just add it to Comodo's Trusted Applications list by browsing to it.
---
Read More ...
---