It's too darn cold in Florida. The last few days its been in the 30's. Just north of me they had snow...ummm hello I live in SOUTH Florida. So the last few days the news guy is joking about iguana's falling from trees frozen. Ok we have all had a good laugh off of it. I mean come on how often do you see that.
Well I got back from the grocery store and I checked my facebook and I see I'm tagged in 2 photos....OH HELL NO!!!!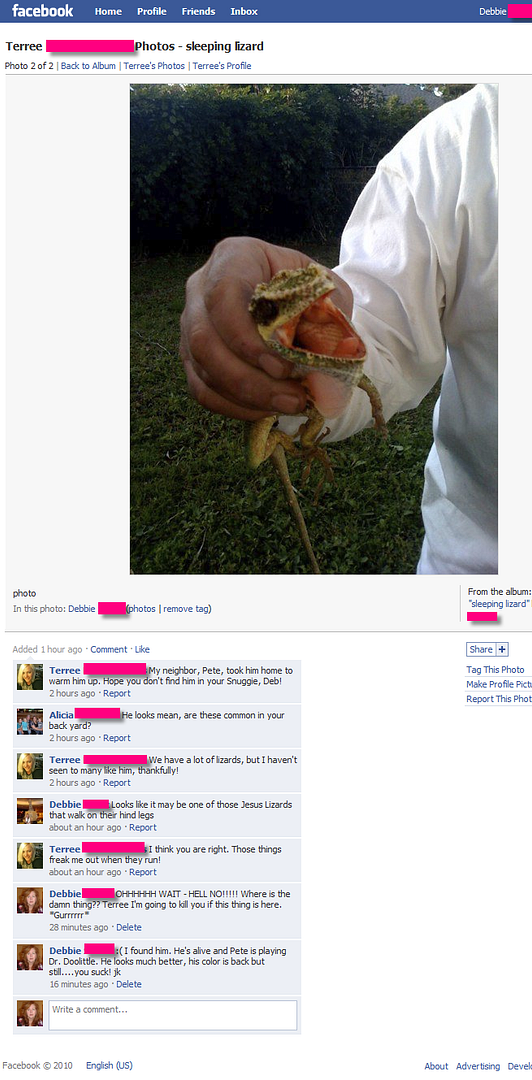 Yeah Pete is my Hubby. The lizard looks better but..........*sigh* I'm married to Dr. Doolittle. Its color is back and it looks much better now. Yes its now in a cage at my house.
Right after he fell out of a tree.....
After a few hours of heat......
From head to tail he is about a foot long. He also has razor sharp teeth.
Scientists said these seemingly suicidal lizards are a result of South Florida's record cold weather. Iguanas prefer temperatures in the 80s and 90s. With Wednesday morning's temperatures at around 35 degrees, a handful of lifeless lizards hung from branches and fell to the ground.
While these iguanas appeared dead, experts said they are not. When temperatures drop below 40 degrees, iguanas go into a type of hibernation in which their bodies essentially turn off, only allowing the heart to pump blood. When the temperature rises above 40 degrees again, the iguanas are revived."It's almost like they go totally to sleep.
Generally speaking, if it warms up afterwards, they can recover," said Ron Magill of Miami Metrozoo.
Is this the craziest thing or what???? Anyone want a lizard?