Windows doesn't make finding it's own Cleanup Utility very easy, does it? So your friends here on GeekDrop are going to show you how to quickly create a shortcut to it right on your desktop, which of course can then be moved wherever else you want it, if not on the Desktop. So, here are the steps to Create a Shortcut to Windows Disk Cleanup:
First step, just
right-click on your Windows Desktop
and choose
New | Shortcut
.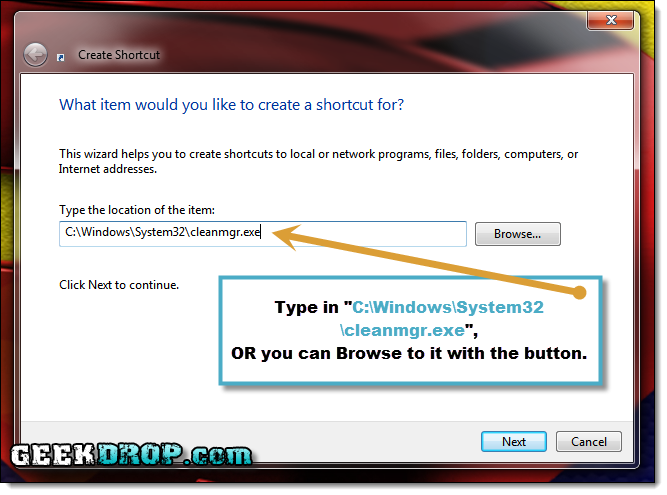 Type or paste the path to the Windows Disk Cleanup Utility, this is where Microsoft throws us a curve - the actual file name is "cleanmgr.exe"
, so just paste this into the line: "C:\Windows\System32\cleanmgr.exe" or if you prefer you can use the Browse button to select it from the same location.

Now type or paste the name of the shortcut, you'll probably want to use "Windows Disk Cleanup", but you can use anything you want, really.

Tada! Now you have yourself a nice little shortcut right to the Disk Cleanup utility.
Now that you know how to access Windows Disk Cleanup quickly and easily, you should probably have a look at our tutorial on How to do a Disk Cleanup and Defragment. Have fun!
---
Read More ...
---