PhraseExpander Review
Every once in awhile you just happen to stumble across a piece of software that is so incredibly useful that it actually changes the way you use your computer. "PhraseExpander" is one of those. And I don't make that claim very often.
In the past I've used a similar program named "PhraseExpress", and at first I got excited about it, but after using it for a short time found that it just didn't perform well enough for me, and actually hindered things due mostly to it's slow speed. What both of these programs do is allow you to create lists of essentially "text shortcuts" that will expand into any full length amount of text once executed; for example you can create a text shortcut where you start to type the word "signature" in an email, and as you type the first 2 letters "si" a little box will popup just above wherever you're typing allowing you to press the Shift key to auto-magically fill out your entire pre-made email signature for you.
In these 2 programs, these "text shortcuts" are called "phrases", and many of you who send texts often are already familiar with these since in most texting apps these same shortcuts are available for anyone to setup to make texing quicker and easier. When I stumbled across PhraseExpander I was skeptical due to my previous experience with PhraseExpress, but thought I'd give it a try anyway. Glad I did, what makes PhraseExpander stand out so high above the crowd is how high-quality it really is, and how well it actually performs. Quite simply, I friggin' LOVE this program.
Some of you may already know that I've been a software developer myself, going back as far as 1997. I've owned a trialware company named Xenon Inc. that I also wrote the software for, and took pride in making high-quality software, so I know quality software when I see it, and I can tell when the author puts true thought and care behind his program. PhraseExpander is SO well thought out and robust that I'm constantly finding myself saying "wow, that's freakin' awesome" while using it. It's unobtrusive, fast (near-instant), attractive looking, simple to use yet extremely powerful, well laid out, has an excellent help file including screenshots in it, and aside from all that .. it just works.
You can create phrases, which is it's main purpose, but another great feature of it is that it also auto-corrects your typo's AS you screw up. No more needing to go back and proof read for typos, no more having to right click the squiggly underlines and select the correct spelling, you can even think of it as something of a "live spellcheck" if ya want. As you create a typo you'll often just happen to notice out of the corner of your eye the small balloon tooltip in your system tray telling you that it corrected a word (you can toggle the tips off if you wish, but at first it's almost fun to see how often it's helping you out). You'll be adding / removing and tweaking the auto-correct for little while to suit your own needs and style, but you get an initial list of terms to start with and there're some downloadable (free) lists (called Glossaries) on the website. You're also able to export your own glossaries for backup and / or sharing with others if you want.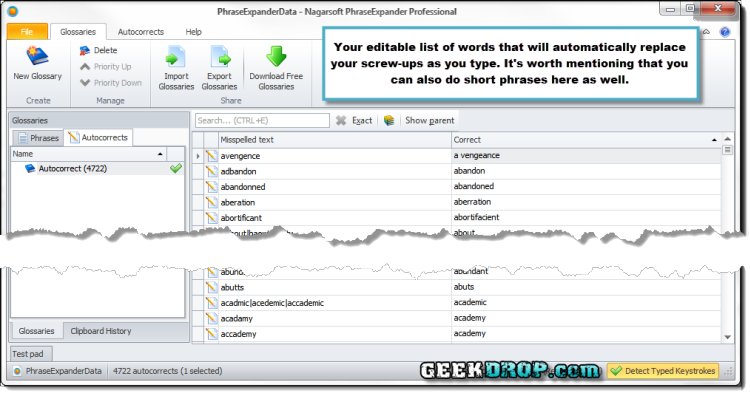 This program is literally so useful, in so many ways that I personally think it's one of those "must have" programs that everyone should be using. One of those that you'd think should've been built right into Windows. As a software developer, website developer and webmaster, article writer and so on, I can't even begin to describe how much this little program makes me more productive, but as an everyday computer user who just does this or that, you'll absolutely 100% find it just as useful. And the great thing is, the more you use it, the more you'll want to use it.
Really, there are so many things that I could talk about in PhraseExpander that this article would be pages long, so in order to keep it reader-friendly I'll just hit on a few, part of the cool factor of this proggie is exploring what it can do on your own anyway.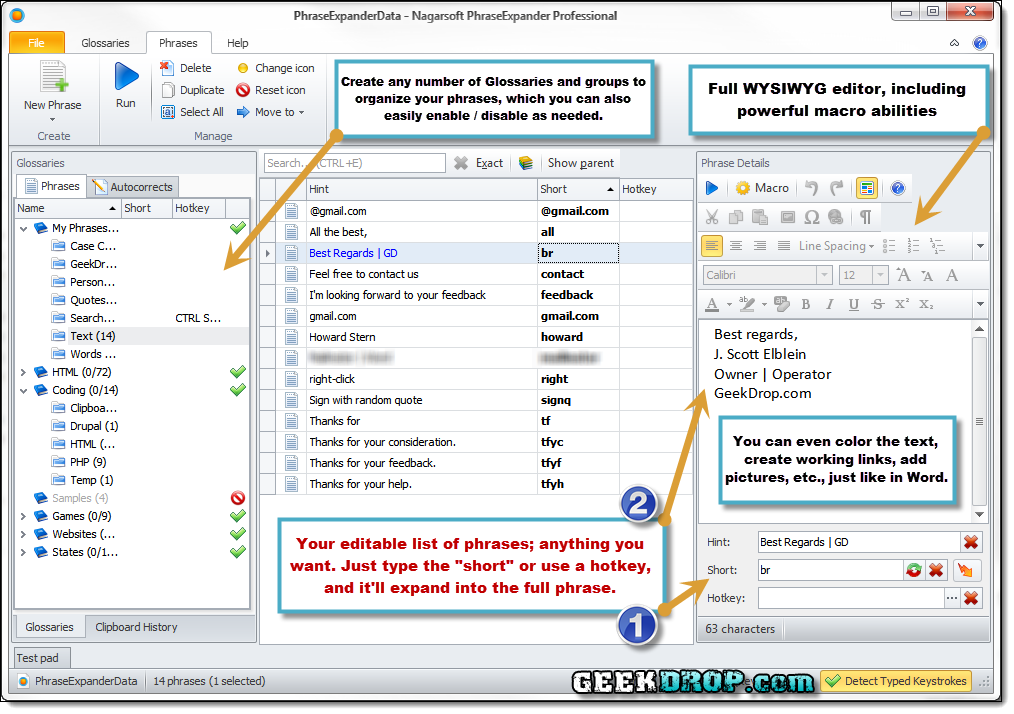 One of the cool things is that you can always enable / disable any part of it (or the whole thing) any time you want. For instance, I made a glossary just for my coding projects (which I'll get into in a minute) so if I'm not wanting to have PhraseExpander show any of my coding related phrases (or even any of my autocorrects) I can just toggle the checkmark next to that glossary. If I want to disable PhraseExpander entirely for a little while I can just click that little yellow box at the bottom right of the window, or from it's tray icon.
Speaking of my coding glossary, (you may not be a software or web developer, but you can do the same types of things for whatever else you want), any developer knows that you're constantly having to re-write the same thing over and over again, particularly certain snippets of code, or if / else's, functions, and so on; web developers may need to constantly type out "script src= ...", certain hex colors, and so on. This proggie makes that a breeeze. I've literally saved alot of hair by using this, not to mention time.
For non-developers, like you're everyday user, or even Grandma
... who can barely use a computer, this program has so many uses that really, your imagination is pretty much the limit. You can (just as a simple example) make a glossary of your favorite quotes that you like to put in your Facebook status and just have the entire quote entered by typing the first 2 letters and pressing the Shift button. In fact it comes with a built in example on how to randomly choose from a list of your quotes so a single "short" will randomly select one and enter it. You can add your email address(es), or any other personal info, like your phone number, and easily fill out forms that ask for those, and so on.
For Gamers
Of which I am a huge one, you can set up phrases for things that normally take alot of typing, and it still works IN-GAME. Here's an example, just to do some "emotes" in SWTOR you need to type out the slash, followed by the emote's name that you want your character to perform, then hit enter. All of this can be long and annoying. Yea, you can just add the button to your limited toolbar space but why? Save that screen real estate for the important buttons and just use PhraseExpander to do the heavy work for ya. Take a look ...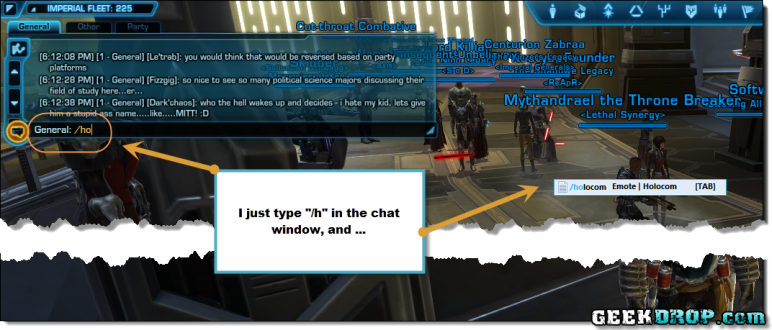 I can just type "/h" and right in-game up pops the PhraseExpander popup. I just press tab ("Shift" key is actually the default, but it allows you to choose your favorite key. I like the Tab key.) then and it'll automatically execute the phrase that I setup for that, which is ...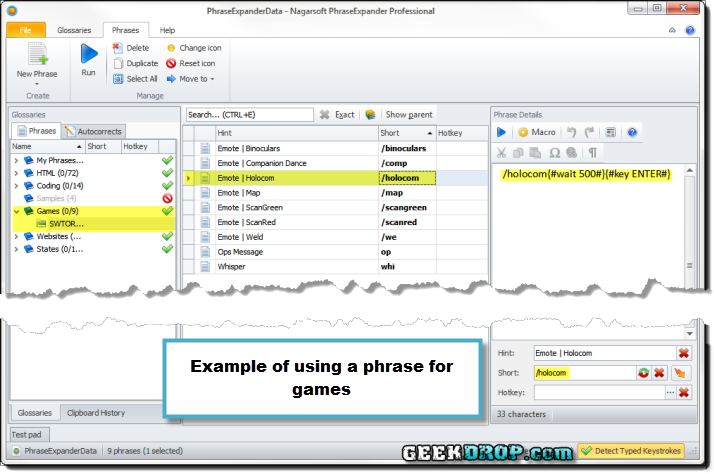 As simple as typing what you'd normally type into the game itself to do the same thing. In this case I've also added a short delay followed by the Enter key. All of it together performs exactly the same as if I had manually typed all of that in + pressing the Enter key myself. You really need to see it in action to see how awesome it is.

For Kids
Life is already tough enough for those lil tyke's, isn't it?

Another slick feature in this program is you can add phrases that'll launch websites. You can setup a nice little glossary just for the kid(s) that you can disable whenever they're not using your computer. Some ideas might be to setup some Disney website phrases to make launching the Disney website as easy and pressing 3 keys; or maybe a swear word filter in case something accidentally slips out, will be auto-replaced with a cleaner version of the word ...

or anything else you can come up with that lil Johnny can make good use of.
Another cool little, whimsical sort of thing the program has in it is stats! You're reading this, so I'm assuming you're a geek like the rest of us and love your stats.

It keeps a running total of how much time it's saved you, how many keystrokes, and so on. Even tells you exactly how many words per minute you type, which is cool for me, because after 17+ years of using computers daily somehow I still never knew that,

.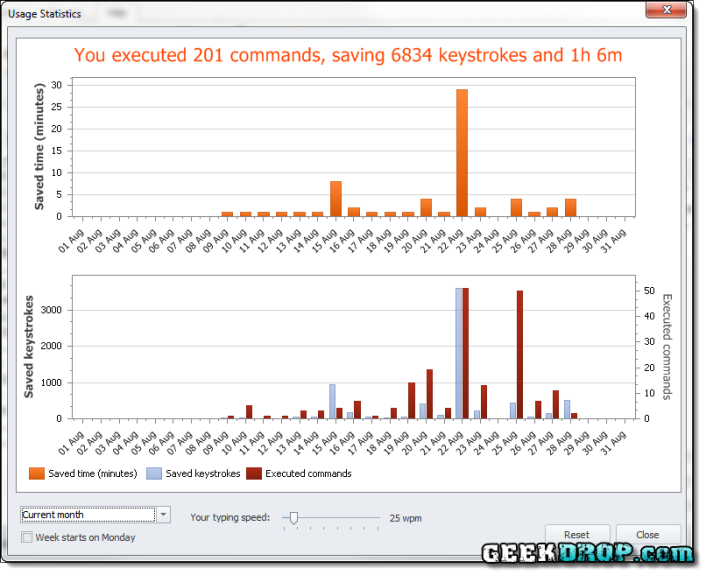 Where to get it?
Truthfully, I've only touched on the tip of the proverbial iceberg, and the only way to really see how slick this program is, is to try it yourself. It's extremely powerful and useful, all while being surprisingly simple to setup and use. And like I mentioned earlier, and most important .. "it just works". It's definatelyearned a permanent spot on my computer for the rest of my life,

. It's one of those once you get it all setup the way ya like it you'll be lost without it kind of apps, of which I have very few of, so If I'm sounding pretty stoked about it, it's because I am,

. I'm looking forward to tweaking this bad boy out over time.
You can grab it here: PhraseExpander. It's not free, but they do have a trial version that lets you use it completely as a full Pro version for a period of time to get the feel for it.
Which brings me to a quick point. From what it appears the developer is primarily aiming the software at the medical profession, Doctors, and businesses with a large budget ($55.95 for the Standard Version, $139.95 for the Professional version, once your trial period expires) a bit more-so than your daily computer user, which is a bit unfortunate as I think it may put the software a bit out of people's range, no matter how great it may be. I haven't noticed any academic discounts offhand for students (though I may be wrong) and there are version upgrade fee's down the road as well. If you want to use the program on more than one machine, you need to cough up more money for an "extended license" and a lesser cost than a new license. In this day and age of people preferring to pay ~.99 cents for a pretty solid mobile app, and countless people willing to risk getting busted for downloading free movies and software to avoid much smaller fees, I'm not sure how many will be willing to drop the initial cash, let alone more money on future version upgrades. Although it's a solid, top-notch program with many features, the features pale in comparison to programs like Adobe Photoshop Elements or Adobe Premiere
Elements (which you can get both in a single package for only $70), or other extremely robust and useful utilities such as Snag-It ($50) or ClipMate ($34.95) as just a few examples, as well as an entire suite of popular, complex apps from Stardock (see screenshot below), all programs of which are already heavily pirated at those prices.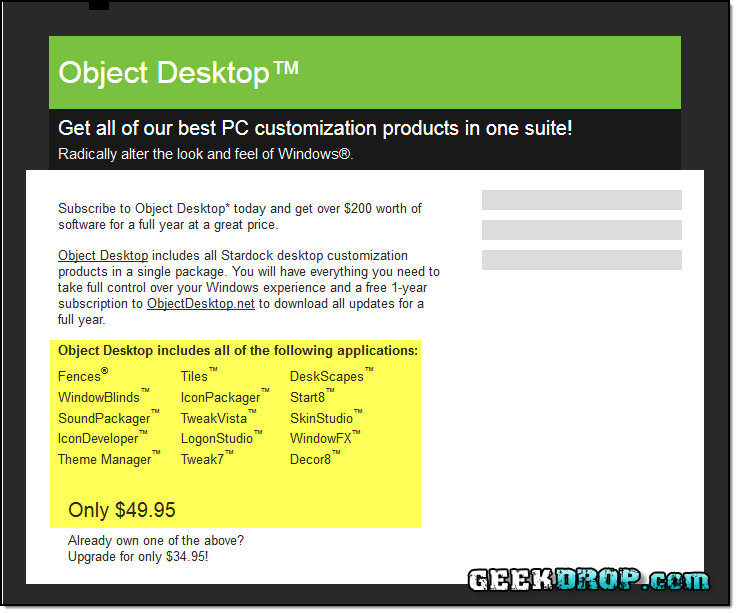 Nonetheless, if you're willing to spend the money on it, it's a definite must-have utility, very polished, very modern, very stable, well crafted and thought out app. I've already talked to the developer many times now personally and he's a really nice guy who gets back to you very quickly, so the support is there. The website, the help file, everything is all very professional and I'd highly recommend giving it a try for yourself, no joke.
---
Read More ...
---