We're having trouble playing this title right now. Please try again later or select a different title.
Sound familiar?
I was recently getting this error (AIP-701) on the Netflix. app on my NSZ-GS7 GoogleTV box (GTV), whenever I would try to play any movie or TV show. It just happened out of nowhere. Turns out the solution is simple; the most annoying part of it is that you'll need to re-enter your Netflix password.
So here we go, here's how to fix this error (and probably any similar Netflix
.

error code):
Load up Netflix and go to the main screen
On your remote, use the directional arrow keys to enter this combination: Up Up, Down Down, Left Right, Left Right, Up Up, Up Up, Up
(That's 2 Ups, 2 Downs, Left - Right 2 times, then 5 Ups) (ProTip: If the last 5 Ups don't work, try the same code, but with 4 Ups at the end instead.)
You should get the following (or similar) dialog popping up, with an option to Deactivate this Netflix

.

device
Go ahead and do so
Then just re-enter your Netflix

.

login and password after re-opening the app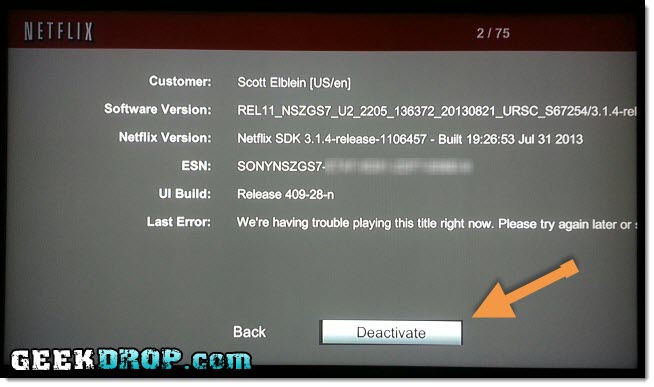 So far this trick has been reported to work on all of these devices:
Amazon FireTV / Stick
Boxee
D-Link Devices
Emerson Devices
Fetch TV DVR
Hi-Sense Vidaa
Insignia TV's
LG Blu-Ray / 3D Players (See tip: here)
LG LW5700
LG Smart TV
NeoTV
NSZ-GS7 (Google TV a.k.a. 'GTV')
Panasonic BDT220
Panasonic TV's
Panasonic Viera TV
Roku 2
Samsung BD / Blu-Ray Players
Samsung Smart TV
Sharp TV
Toshiba Smart TV
Vizio CoStar
Wii / WiiU
Xbox
---
Read More ...
---