How To Combine Multiple URLs Into One Short URL For Twitter, FaceBook, Or Anywhere


So let's say you have more than one, possibly many URL's that you want to put in as your URL on Twitter (or anywhere else) but since they only allow you to enter a single URL you're now scratching your head, trying to decide which one is the most important.

OR you can add as many URLs as you want somewhere, but you don't want to confuse people with a bunch of different links? Here's a very cool free service that will let you enter in as many URLs as you want and it'll combine them all into one, extremely short, unique URL for you to use instead. Then you just paste this new short URL in wherever you may need to use it.

Let's take a closer look:
(
Fig 1
)
Go to
Fur.ly
, and just paste in the fields, any URL(s) you want combined into a single URL. As you enter a new URL, a new blank one pops up below it in case you'll want to add another. When you're all done, click the "
Go
" button ... (
Fig 1
)
(
Fig 2
)
You'll be taken to a new page (Fig 2) with your personal, shortened and combined URL. Just copy it to your clipboard and use it in Twitter, FaceBook, or anywhere else you want.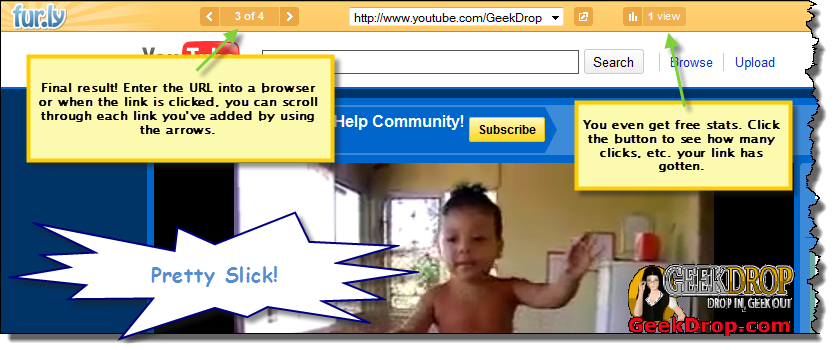 (
Fig 3
)
When someone clicks your new URL, they'll get your pages, with a mini-bar at the top (
Fig 3
) that they can click on the left or right arrows to "scroll" through the URL's you combined. It'll do them in the order you entered them, so you should use the most important starting page as the first URL, and so on, when you create it.
On the mini-bar you can also close the bar, expand the page or view how many clicks your URL has gotten. One thing to note, some pages will only show partial or custom things instead of the entire page. For example, a FaceBook page might just show a small "FaceBook" image that you'll need to click to go to the actual page. It's a small price to pay I suppose.
Knowing this service is out there, I'm sure you can come up with all kinds of different ideas on ways to make use of it. Try the one we made for this tutorial!
Clicky