"Error 1316. The specified account already exists."
Are you getting this error? Probably during the uninstallation of a piece of Adobe software, right?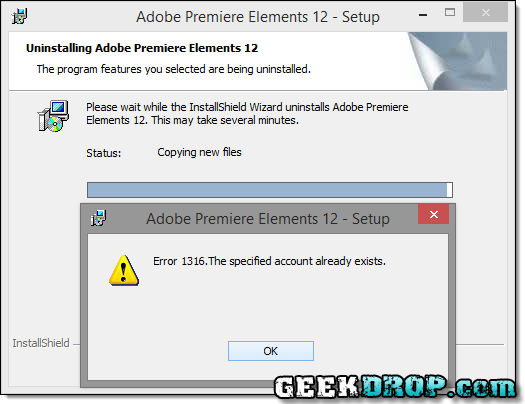 I was getting it while trying to install the latest version of .Adobe Premiere Elements. I had to uninstall the previous version before installing the latest version, but due to this WEIRD error, the uninstaller would end up rolling back all that it had done, leaving the full installation on my computer ... and me highly annoyed.
I've read that the same error crops up on several other pieces of software as well as Premiere Elements. In particular, I've read that it also happens to Photoshop Elements, and a handful of other Adobe products, as well as some Microsoft products.
Well, it turns out that it's not that hard of a fix, and you don't really need to even worry about the actual meaning of the bizarre error message. It just takes a few minutes of your time.
These are the steps that I personally did, that worked, chances are there are several various ways to accomplish the same thing, and the first step may not even be necessary, but it certainly doesn't hurt, and only takes an extra minute or two anyway.
First thing to note, it's not recommended to simply, manually delete the folders / files from your computer, because it'll still leave a TON of what we in the software engineering / reverse-engineering business call "turds"; or in less mentally-visually appalling terms, leftover registry keys, files scattered all over your computer, and so on, which in some cases will cause further issues down the road, including the potential to not be able to install the new version at all.
So let's begin
Here's the "first step that may not be needed, but can't hurt" that I mentioned above. I'll explain why later.
Head over to Microsoft FixIt, and grab a copy of their Uninstall Fixer utility. (The one linked should be for 64 Bit Windows, but there is also a 32 Bit version there.)

Once it's downloaded, give it a run, selecting the program you're having trouble with from it's menus. Let it fix whatever it finds.

Now, go back to your Windows' Add / Remove Programs and try again to uninstall it.
I ran into a small speed bump here, in that FixIt hadn't really uninstalled anything, but did break the uninstaller's icon / ability to run the uninstaller from Add / Remove Programs. Which is where the next step comes into play ...

Grab a copy of the free (and most excellent) IOBit Uninstaller, and install it. Once it's installed you'll have a new button at the top of the Add / Remove Programs window that says "Powerful Uninstall". Select the program you want removed and then click the Powerful Uninstall button.

Let it run the original Uninstaller, then it'll scan the rest of your computer and registry for anything it can find related to your program. It'll find a LOT.
Once it's done scanning, it'll show you a tree view of everything it found; look over them and put a check on everything that relates to your program. Pay special attention to the registry keys it found. For the most part they will all be exactly what you want deleted, but there may be a small number of keys that aren't. Only check the boxes that either have the exact name of your program, or it's branch. If you're not 100% sure of an item, uncheck it, generally it's safer to leave it there than to accidentally delete something you needed.

When it's all done cleaning up after your misbehaving program, reboot your computer. It's technically not necessary in this case, your new program should still be able to install now, but it's always good to start "fresh", so things can "settle" first.
That's it! Go ahead and install your new program now. There shouldn't be any problem.
Now, about that "first step" I mentioned. To be honest, I don't know exactly what Microsoft FixIt did when it 'fixed' stuff.

I didn't take the time to read the report that it generates, and there's a very good chance just using the IOBit Uninstaller alone would work just fine. However, since I wanted to list exactly what I did, I added it to the list. Either way, the end result is, everything worked (and still works) perfectly on my own personal computer. Most likely it just fixed up a couple of registry keys related to the program.
All fixed, enjoy!
---
Read More ...
---