Well the show started a few years ago with a couple that had 2 children and expecting 6 more. A few years of really Kate not being so nice to Jon, she was a tad bit bossy. Now here we are they are seperated and the sweet Jon we all loved just became a train wreck. I don't think most really saw what came ahead of their split.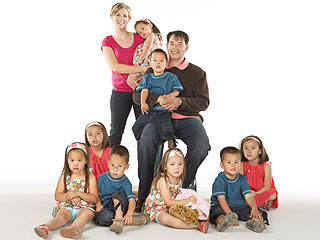 Kate basically became the only parent figure and she became much nicer. Jon well he basically started hopping all over the world with a new girl on his arm every time he turned around.
New turn on the show - TLC has decded to drop Jon and just go with Kate plus 8. I can't really blame them Jon I think is out of control. I did find this funny when I read here that Jon did this on the SAME day that he was cut from the show.
Speaking of Jon, the same day as the show announced it would be squeezing him out, In Touch Weekly reported that Jon filed paperwork to "put the brakes" on his divorce, or at least stall dissolution of his marriage by 90 days.
In an accompanying statement, Jon said, "This will enable Kate and me to restore our relationship as cooperative parents and to open up our lines of communication. I hope that she will be as receptive and enthusiastic as I am to do what is best for our family … I asked my attorney to put the brakes on this divorce so I could try to regain control over the future of our family. So Kate and I could join on a cooperative course that would benefit our family — not destroy it."
So one can read into that two different ways. Either he is trying to mend a relationship with his kids and actually be a better dad or maybe just maybe work his way back on the show. Personally I'll miss him on the show but I'm proud of how Kate has really taken charge and stepped up to the plate. Jon need a spanking IMO.
So what do you think? Any other fans of the show?